The only PrestaShop cache module that supports esi:include and esi:inline.
Give your store a performance boost with less overhead than other PHP-based caches.
Flexible Caching for Your Customers
LiteSpeed Cache for PrestaShop 1.6 and 1.7 supports multiple stores, multi-language, multi-currency, geolocation and mobile view. The sophisticated tag-based system allows a targeted cache purge to be triggered by builtin events as well as third-party programs.
Use ESI to "punch holes" for personalized content on public pages, and serve fully-cached content to both logged-out and logged-in users.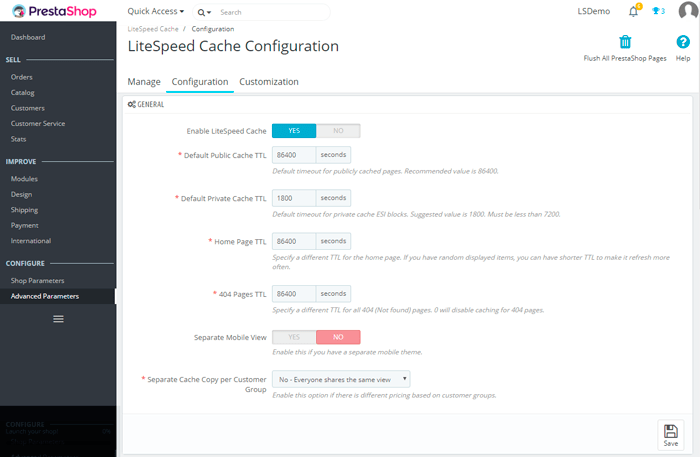 Server-Level Full-Page Cache
Supports Multiple Stores
Multiple Languages and Currencies
Integrated into LSWS and Web ADC
Support for PrestaShop 1.6 and 1.7+
Cache for Logged-in Users
Support for Cart and Account Sign In
Support for 3rd-Party Modules
Cache Mobile and Desktop
Auto Purge Hooked with Web Services
Tag-Based Caching and Purge
PrestaShop Cache Doc
All you need to know about installing, configuring, customizing, and troubleshooting PrestaShop Cache.