Highly customizable tag-based caching and purge for your Shopware site.
Optimize your shop for peak loads and provide an exceptional user experience!
Shopware, an ecommerce platform for small businesses and major brands alike, supports fully responsive online stores. Add the LiteSpeed Cache extension available exclusively through DOGAGO, and accelerate your store with a flexible server-level full-page cache. LiteSpeed's sophisticated tag-based structure allows a targeted cache purge to be triggered when product data changes. Never worry about purging too many or too few of your shop's pages!
With Edge Side Includes, your customers will be served fully cached pages, even when the pages include personalized content, such as shopping carts.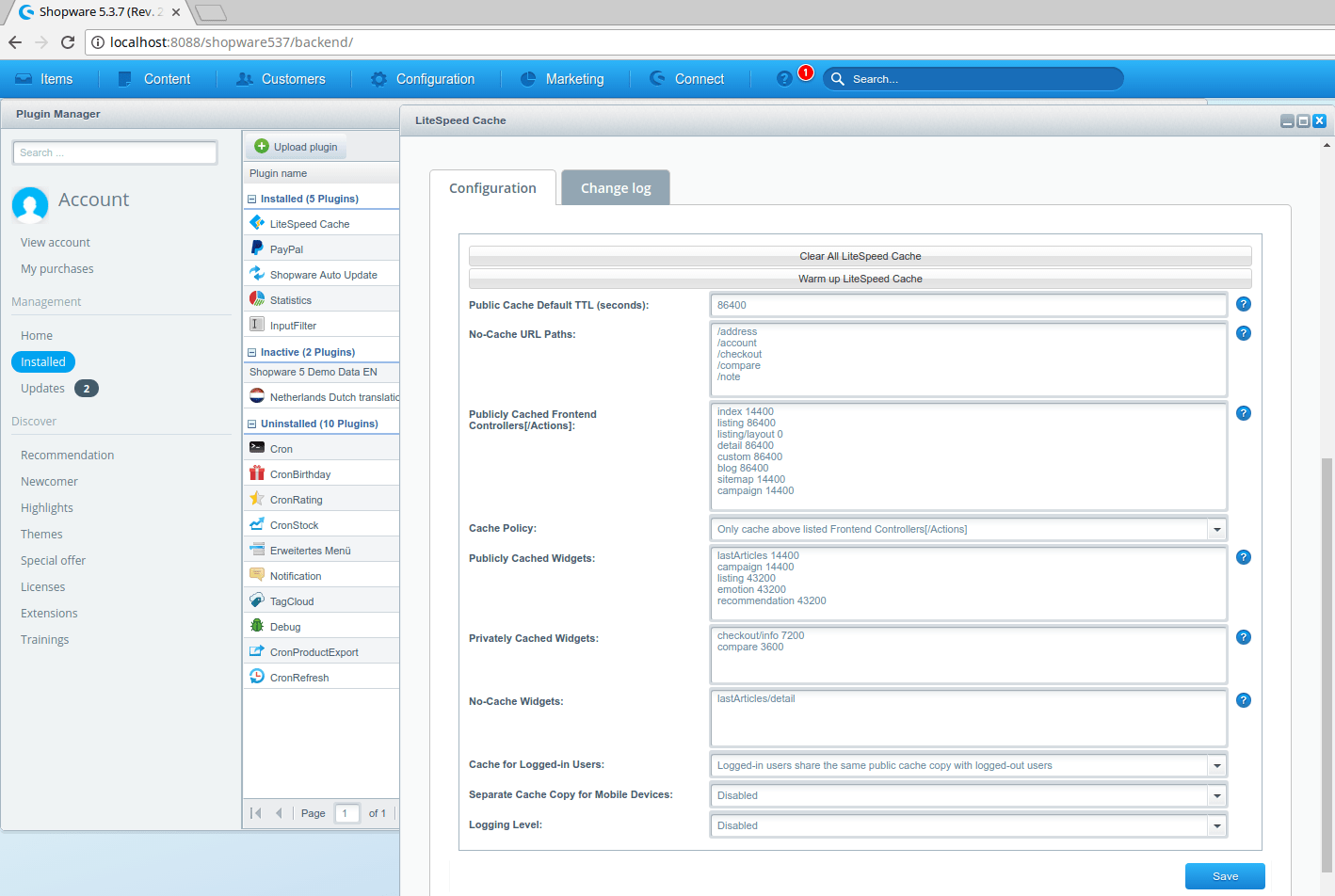 LiteSpeed's Shopware extension delivers impressive performance while bringing precise, customizable caching to your store. Advanced cache options give you control. Specify different expiration times for different key pages, and exclude some pages from caching altogether. LSCSW is adaptable to your shop's needs.
› Server-Level Full-Page Cache
› Cache for Logged-in Users
› Tag-Based Caching and Purge
› Caching for Shopping Cart
› Support for Shopware 5.3 and up
› Multiple Languages and Currencies
› Highly Customizable
› Warm Up or Purge Cache from CLI
Frequently Asked Questions
How much does the LiteSpeed Cache Extension for Shopware cost?
LSCSW may be purchased from Dogado. Please see their website for current pricing.
What server software is required for this plugin?
A LiteSpeed server is required in order to use this plugin.
LiteSpeed Web Server Enterprise with:
LSCache Module (v5.2.2+)
LiteSpeed WebADC (v2.1+)
Any single server or cluster including a LiteSpeed server will work.
Does this plugin work in a clustered environment?
The cache entries are stored at the LiteSpeed server level. The simplest solution is to use LiteSpeed Web ADC, as the cache entries will be stored at that level.
If using another load balancer, the cache entries will only be stored at the backend nodes, not at the load balancer.
The purges will also not be synchronized across the nodes, so this is not recommended.
If a customized solution is required, please contact LiteSpeed Technologies at info@litespeedtech.com
NOTICE: The rewrite rules created by this plugin must be copied to the Load Balancer.
Does LiteSpeed Cache for Shopware work with OpenLiteSpeed?
No. LiteSpeed Web Server Enterprise is required. LSCSW uses Edge Side Includes (ESI) to handle private and public content on a single page, and OpenLiteSpeed does not currently support ESI.
Does LiteSpeed Cache for Shopware have a crawler?
Yes, the "Warm up LiteSpeed Cache" button in the LiteSpeed Cache Admin triggers a crawler, which refreshes those pages that have expired.
How can I install LiteSpeed Cache for Shopware?
Once you purchase the plugin from Dogado, they will provide instructions for installing and using it.
Shopware Cache Doc
All you need to know about installing, configuring, customizing, and troubleshooting Shopware Cache.